Older News
VoiceFlight VFS101 Discontinued
September 22, 2014
It is with great sorrow and regret that we announce that VoiceFlight Systems LLC is discontinuing manufacture, sales and support of its VFS101 Speech Recognition System.
On July 22, Garmin finally announced a solution to the cumbersome GNS-430/530 knob twisting that spawned the initial VoiceFlight development effort. Although we firmly believe the VFS101 provides a superior interface, Garmin's new Connext product line has had a profound effect on VFS101 sales. Despite our best efforts, VoiceFlight simply does not have the resources, equipment, or staff to continue the VFS101 product any longer.
VoiceFlight Systems will not be producing any further Nav Updates. For those customers that wish to continue using their VFS101, we have developed (at considerable effort) a Window application to build your own VFS101 Nav Updates without VoiceFlight assistance. Further details can be found here.
We have seen only a single field failure (shortly after installation) in all of the VFS101 units that were shipped. However, we are making arrangements with a distributor to hold a small quantity of additional production units to address any additional hardware failures that may occur. Details will be posted on the Support page when available.
The demise of the VFS101 is extremely unfortunate for all concerned. For our Investors that have lost millions of dollars, for our Customers that will not receive the level of support that we had intended, and for our Employees and their Families that have endured 80 hour weeks for years, frequently with little or no salary. Although of small solace, I offer my profound and heartfelt apologies that we were not able to grow the VFS101 into a viable and sustainable product line.
Sincerely,
J. Scott Merritt, President and Founder
VoiceFlight Systems LLC
GNS 430W / 530W Version 5.0 Software Update
November 2, 2012
Please read an important notice regarding Garmin's recently released Version 5.0 Software Update.
VoiceFlight at AOPA Summit 2012
September 28, 2012
VoiceFlight Systems will be at AOPA Summit in Palm Springs, California from October 11th to the 13th. At the show, we will be introducing the VFSXP1, an Experimental / LSA version of the VFS101. It offers the same functionality as the VFS101, but at the low price of $995.
Additionally, we will be unveiling and demonstrating the new HELO101, a new version of the VFS101 pilot speech recognition system optimized for helicopter use. The HELO101 allows pilots to enter latitude / longitude destinations into their GPS and tune Nav/Com units without taking their hands off the primary flight controls.
Come see us in Booth 1507 if you are at the show. Click below to see a video demonstration of the HELO101.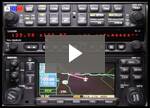 New VFS101 features at Oshkosh
July 19, 2012
VFS101 for Non-WAAS GNS-430/530:
VoiceFlight is pleased to announce that the VFS101 software has been extended to support both WAAS and Non-WAAS (Legacy) GNS-430/530 navigators. The VFS101 feature set and operation on the Non-WAAS units is identical to the current WAAS offering. A fully operational Legacy version will be available at our Oshkosh booth for demonstration and customer trials.
The FREE software upgrade will be available to all customers this fall. VoiceFlight will begin supplying dealers with VFS101 units for use with Legacy GNS-430/530 units at that time. The revised software will operate transparently with either Legacy or WAAS GNS-430/530 units (but not a mixture of both). This means that if a Legacy customer subsequently decides to perform the GNS-430/530 WAAS upgrade, no changes will be required to the VoiceFlight system.
Additional Airways:
One of the most impressive and useful features of the VFS101 is the automatic expansion of Victor Airways. By popular request, the revised VFS101 software has been enhanced with additional support for Jet Airways and T/Q Routes. Again, this support is included in a FREE software upgrade that we will be demonstrating at our Oshkosh booth and will be available to all VFS101 customers this fall.
International Data:
For VFS101 customers that fly outside of the United States, VoiceFlight has reached an agreement with Jeppesen to offer international navigation data for the VFS101. We have received FAA approval for this offering and hope to have it available on our website in September.
Oshkosh:
We will once again be located at booth 4026 in Hangar D for AirVenture 2012 at Oshkosh. Please stop by to visit if you are able to attend the show !
VoiceFlight at EAA AirVenture Oshkosh 2012
June 18, 2012
VoiceFlight Systems is happy to announce our return to EAA AirVenture in Oshkosh Wisconsin. This will be the company's second appearance at the event, which will be held from July 23th to the 29th. The VoiceFlight exhibition booth will be in the same location as last year, turn right as you enter Hangar D and follow the aisle. You can't miss us.
There IS an App for that ! ... And it's available NOW !
February 22, 2012
VoiceFlight's Flight Talker App is now available for the iPad! This application (Available for FREE in the Apple App Store) allows pilots to transfer flightplans from their iPad to the VFS101 by way of a special audio cable The cable is available from VoiceFlight for $25. Watch the demo, or see our support page for more information.
Flight Talker is presently not a Connected Panel Enabled™ product, and VoiceFlight is not affiliated with or sponsored by Aspen Avionics.
VoiceFlight demonstrates new iPad App to AOPAOnline
February 2, 2012
During a product demonstration of the VFS101, VoiceFlight offered AOPAOnline an exclusive demonstration of VoiceFlight's soon-to-be released iPad app. Connected Talker allows the iPad to speak the initial FlightPlan into a VoiceFlight-equipped Garmin GNS 430W or 530W in seconds. The application itself is nearing completion and should be available at the Apple App store at the end of February. A custom audio cable is required to transfer the flightplan from the iPad. It's expected price is in the $25 range, and will be available by the time the iPad app is released.
VoiceFlight receives AML for the VFS101
January 11, 2012
VoiceFlight Systems is pleased to announce that it has received an FAA Approved Model List (AML) Supplemental Type Certificate (STC) for the VFS101, allowing it to be installed on almost all types of aircraft under 6,000 lbs. maximum take-off weight (MTOW). With this approval the VFS101 may now be installed into hundreds of aircraft models without requiring installers to secure field approval from their local Flight Standards District Office (FSDO).
VoiceFlight at Sun-N-Fun 2012
January 10, 2012
VoiceFlight Systems will be attending the 2012 Sun-n-Fun fly-in. This this be the company's first year attending the event, which will be held from March 27th to April 1st in Lakeland Florida. Attendees will have the chance to try the VFS101 and experience for themselves it's exceptional speed and accuracy.
See you in Florida!
VFS101 in The Aviation Consumer
December 29, 2011
There is a really nice in-flight review of the VFS101 in the January issue of Aviation Consumer magazine. The article is online (see link below), but access is restricted to subscribers.
AOPA Aviation Summit 2011 Wrap-up
September 28, 2011
This year's AOPA Aviation Summit was highly successful for VoiceFlight. Several hundred pilots witnessed demonstrations of the VFS101's exceptional speed and accuracy entering waypoints and Victor Airways. AOPA Live also visited the booth and shot a short video interview which is now available on the AOPA website:
EAA Airventure 2011 Wrap-up
August 23, 2011
VoiceFlight Systems had a very successful product launch at EAA Airventure in Oshkosh Wisconsin. The VFS101 enjoyed an overwhelmingly positive response from the hundreds of attendees from all over the world that were able to try the system for themselves. While at the show, AeroNews.net recorded a very informative interview with VoiceFlight founder and president J. Scott Merritt.
VoiceFlight at AOPA Aviation Summit
August 16, 2011
VoiceFlight Systems is happy to announce that we will be attending AOPA Aviation Summit in Hartford Connecticut, from September 22 to the 24th. Demonstrations of the first and only FAA-certified pilot speech recognition system will be available.
Pilot Speech Recognition System available for GNS430W/530W
July 11, 2011
VoiceFlight Systems of Troy NY announced today that it has received an amended Supplemental Type Certificate (STC) that expands the applicability of its revolutionary VFS101 pilot speech recognition system to include the popular WAAS enabled GNS430W and GNS530W navigation units.
The enhanced VFS101 retains the exceptional speed and accuracy of the original unit, but now allows pilots to directly enter and edit the active flight plan on GNS430W/530W GPS units. New to the VFS101 is a novel Airway Compression feature that allows long flight plans to be entered within the 31 waypoint limitation of the GPS units. Pilots can now enter Boston to Florida (e.g. BOS V3 PBI) in seconds with a simple speech command.
The VFS101 was the first speech recognition system certified by the FAA. It permits pilots to enter complex flight plan up to ten times faster than is possible with conventional GPS entry knobs. It also supports Direct-To operations and automatic expansion of Victor Airways.
VoiceFlight Systems has received Parts Manufacturer Approval from the FAA and the first production run of VFS101 units will be available for sale at EAA AirVenture in Oshkosh July 25-31, 2011. Special promotional pricing will be available at the show.
A promotional flyer is available for the new WAAS enabled VFS101.
VFS101 Product Launch
June 29, 2011
VoiceFlight Systems will be attending EAA AirVenture Oshkosh this year. Demonstration units will be available so that pilots can experience for themselves the speed, accuracy and convenience of the WAAS enabled version of the VFS101. A limited quantity of production units will be available at special promotional pricing.
New Location
March 30, 2010
VoiceFlight Systems has recently relocated to larger facilities to accommodate manufacturing and future expansion. Please make note of our new contact information:
VoiceFlight Systems LLC
105 Jordan Road
Troy, NY 12180
(518) 720-0060
2009 Achievement Award
September 30, 2009
The Albany Business Review has selected VoiceFlight Systems for its prestigious 2009 Achievement Award as the Most Promising Company in the capital region. The award celebration and recognition dinner were held on November 5th.
VoiceFlight would like to take this opportunity to thank its employees (and their families), our generous investors, trusted advisors, talented consultants, and patient regulators for helping to make this award possible.
Pilot Speech Recognition System Certified by FAA
August 17, 2009
VoiceFlight Systems of Troy NY announced today that it has received FAA certification for its VFS101 pilot speech recognition system.
The VFS101 is the first speech recognition product to have been awarded a Supplemental Type Certificate (STC) by the FAA. The system uses patented technology to provide accurate speech recognition and nearly instantaneous response. Voice entry of complex flight plans is accomplished ten times faster than is possible with the conventional GPS entry knobs. The system does not require any prior training or adaptation for specific pilot voices.
According to the company's founder, Scott Merritt, "The VFS101 uses aviation specific recognition technology to address the challenging conditions found in the aircraft cockpit. It is this technology that allows the VFS101 to meet the rigorous performance requirements of FAA certification".
The VFS101 enables rapid entry of flight plan waypoints directly into the aircraft's primary GPS navigation system. Victor airways are automatically expanded to the correct sequence of waypoints. Voice commands can be used to edit flight plans, correct errors, and accommodate routing changes.
For routine flight operations, the VFS101 provides convenient, "hands-free" entry of Direct-To waypoint destinations. For safety, an audio read-back of the intended waypoint is presented for confirmation before the new destination is activated.
The VFS101 system does not alter or interfere with manual operation of the GPS units in any way. If the pilot experiences difficulties while utilizing the VFS101, conventional manual operations are readily available.
Additional information can be found at the company's website: http://www.voiceflight.com.
Media Contact:
Duncan Pickard, VoiceFlight Systems, LLC
105 Jordan Road / Troy, NY 12180
(518) 720-0060 / media at voiceflight dot com